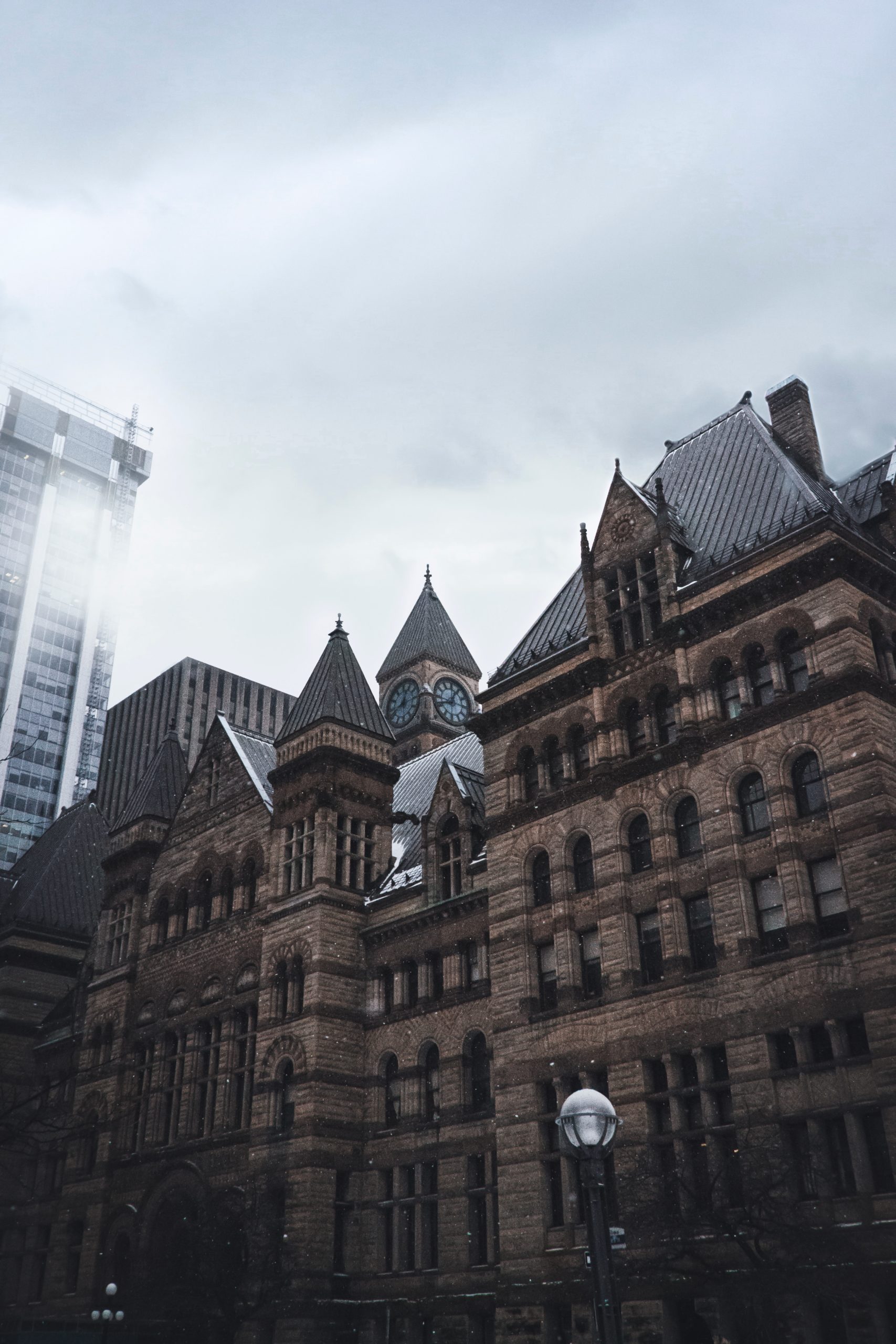 One of the city's most prominent landmarks, Old City Hall is a stunning example of Romanesque Revival architecture and a can't-miss item for locals and visitors. It's located at the corner of Queen and Bay Streets in the heart of the downtown core, just blocks away from the Hotel Victoria.
Situated across from Nathan Phillips Square (and the new City Hall, which was built in the 1960s when the original building became too crowded), Old City Hall's ornate façade and distinctive 104-metre high clock tower make it one of Toronto's most recognizable and best-loved buildings – in fact, a public outcry saved it from planned demolition when the Eaton Centre was built in the mid-1970s.
The clock tower is placed off centre to create a terminating vista on Bay Street (and the view is impressive when you walk or drive up from any direction). Extreme attention to detail is apparent both inside and out – on the exterior, from the use of different coloured stones and ornate masonry, and inside, where light floods through massive stained-glass windows into the grand lobby and sweeping staircases.
Prominent Toronto architect Edward James Lennox, known then as the "Builder of Toronto," designed Old City Hall. Construction began in 1889 and there was slow progress over several years, in part due to the complexity of building the thick basement walls and massive footings and in part because of the local sandstone that was used. The project was plagued with missed deadlines and cost overruns, and caused no small amount of animosity between Lennox and Toronto city councillors – some of whom Lennox immortalized by caricaturing them in stone gargoyles over the building's arches.
The building, which has been a National Historic Site since 1984, is, in fact, Toronto's third City Hall. Earlier versions are now part of the historic St. Lawrence Market at King and Jarvis Streets. When Old City Hall opened in 1899 it was the largest municipal building in North America, and no small point of pride for the growing city of Toronto. It currently operates as a courthouse under lease by the Government of Ontario, and big plans are in the works for when that lease expires next year. These include using the building for a city museum, wedding chapel, public library and retail space. A future museum could be a home to over 150,000 historic objects and artworks that are owned by the city and are rarely available to the public, and a showcase for Toronto's history and culture.
As a functioning courthouse, Old City Hall is open to the public every day. (Make sure you pay attention to signage about active court activities, and respect the rules around photography.) Now you're ready to experience a piece of Toronto history!