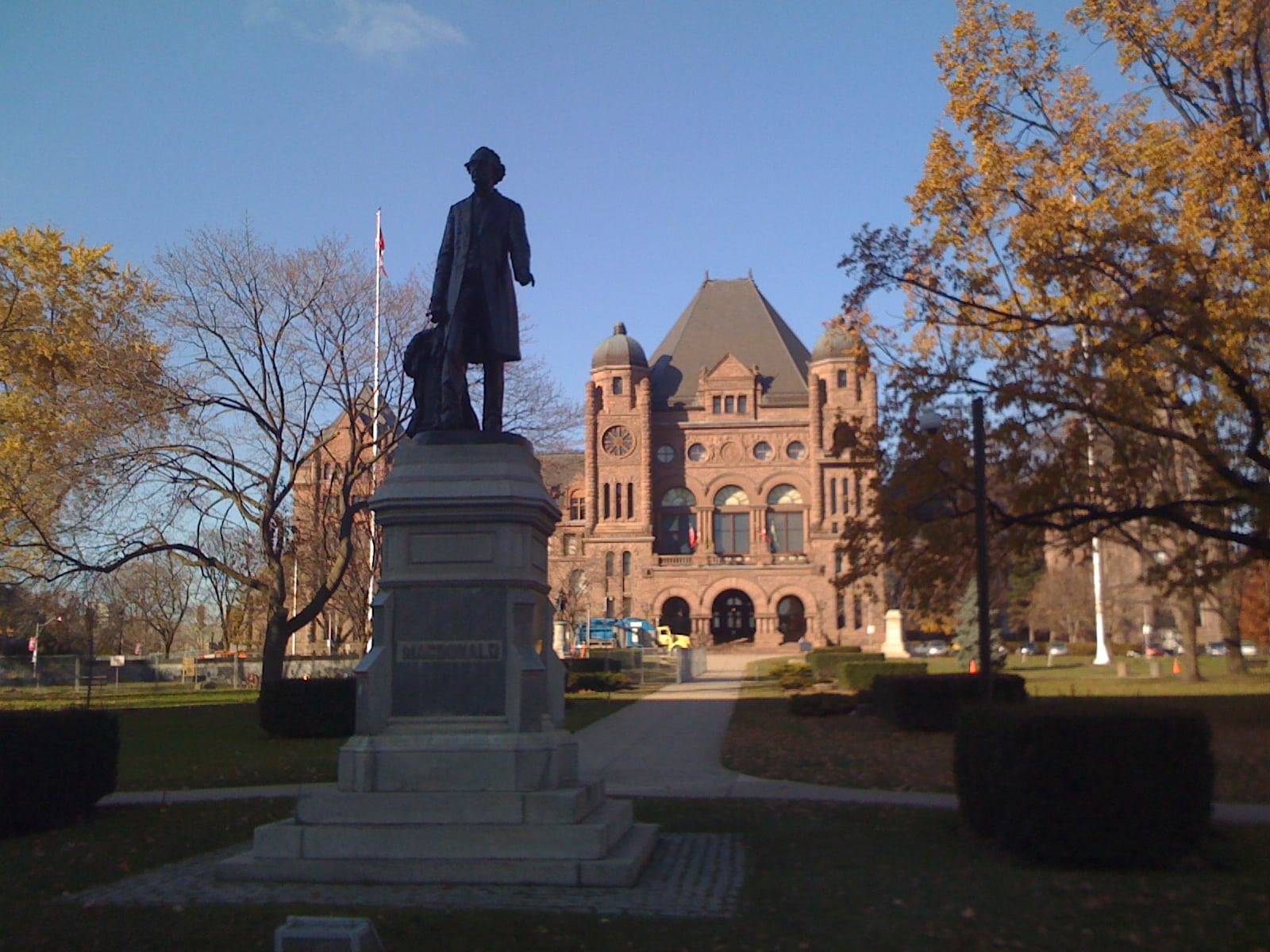 Updated Summer 2023
Queen's Park is one of Toronto's most iconic public spaces and an important location for demonstrations and celebrations. The park is also a great place to learn about Ontario's history and government. Here's what you should know before you go.
Queen's Park, the first municipal park in British North America, opened in 1860 to great fanfare. Named in honour of Queen Victoria, it's full of fascinating monuments and artifacts. Statues of historical figures, including fathers of confederation George Brown, John A. Macdonald, John Graves Simcoe, the first Lieutenant Governor of Upper Canada, are located throughout the park. At the entrance to the Legislature, you'll find two Russian cannons that were captured by the British during the Crimean war and sent to Toronto as a gift. You'll also see a "Saluting Station" where gun salutes are performed on special occasions like Victoria Day, Canada Day and Remembrance Day.
The park is a popular destination for locals and visitors alike. It's located in the heart of downtown adjacent to the University of Toronto campus, just minutes away from some of the city's major museums including the ROM, the Gardiner Museum and the Bata Shoe Museum. It has also historically been a site for public demonstrations, including a major climate rally in September.
Queen's Park is the site of the Ontario Legislative building. (Locals use "Queen's Park" to refer to the provincial government.) The building is nicknamed the "Pink Palace" due to its sandstone façade and has a fascinating history of its own. The land it stands on is technically owned by the University of Toronto who leases it to the city for $1 per year. Based on the original 999-year lease term, the Legislature will stay put until at least 2892. At times throughout its history, the building has housed a bowling alley in the basement and a model air raid shelter on the front lawn. While these are long gone, their history is preserved in extensive photo archives and film footage.
The Legislative Assembly of Ontario (LAO) offers free tours throughout the year, a great way to beef up your knowledge of provincial politics and the history of Queen's Park. Here are a few of the tours on offer:
If you want to spend some time outdoors or observe Ontario politics in action, a trip to Queen's Park is just the ticket.