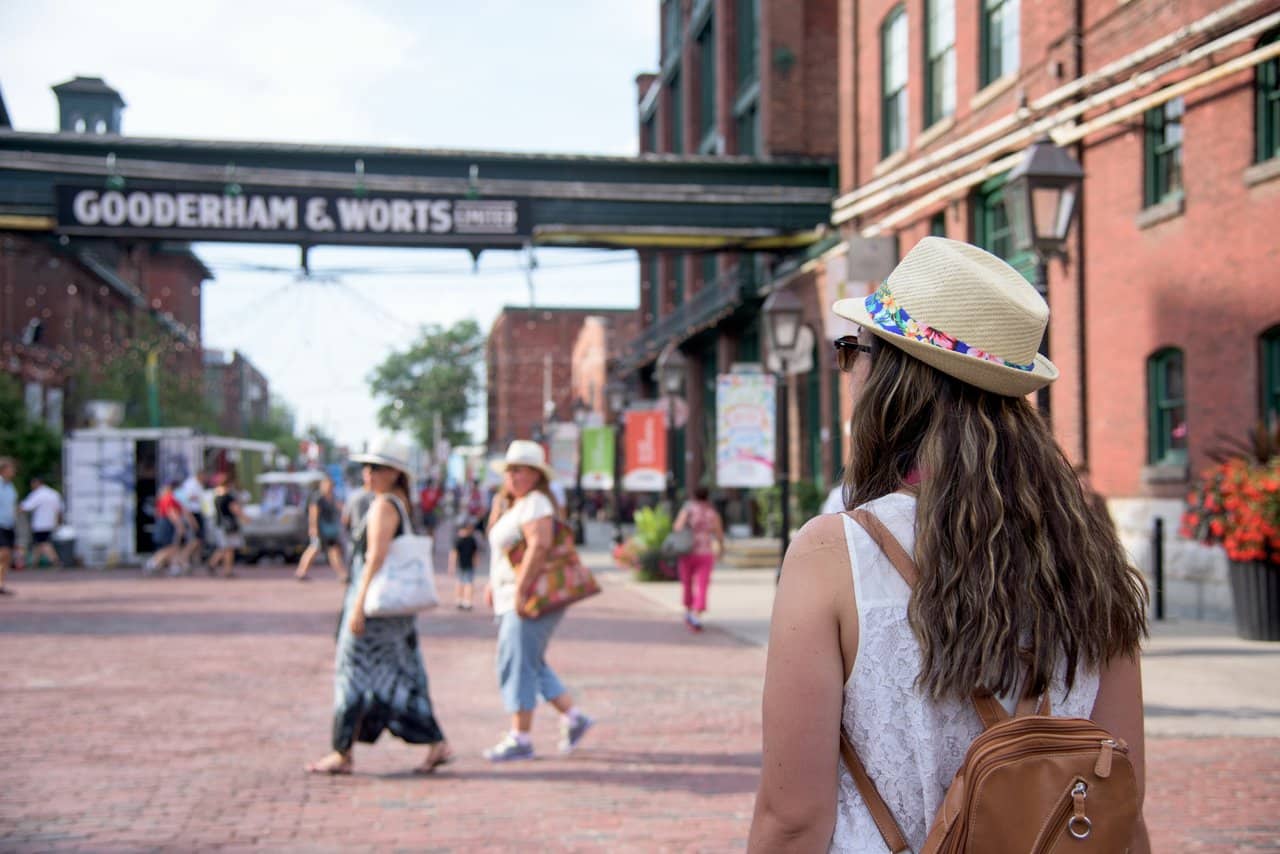 Updated Summer 2023
One of Canada's premiere arts, culture, shopping and entertainment destinations, the historic Distillery District promises exciting discoveries and memorable moments. Lose yourself in the charming cobblestone streets of this pedestrian-only neighbourhood just east of downtown Toronto.
TOUR
A group tour is the best way to get to know the Distillery's fascinating history. Tour operators in the area offer options from Segway to ghost and walking tours. The Gooderham and Worts distillery is the namesake of the neighbourhood and was once the largest distillery in the world. Rumours of ghostly sightings within its walls are frequent — one legend says that founder James Worts Sr. threw himself into a well when he was overcome by grief over losing his wife, and that his spirit still roams the building. Take a tour to learn more about the Distillery's storied past!
Other stops may include the Distillery's famous theatres, including the Young Centre for the Performing Arts, home of the Soulpepper Theatre Company, and one of its many acclaimed art galleries, like the Beauchamp Gallery, Gallery Indigena and the Corkin Gallery. The Distillery's streets are alive with culture, so you may also be treated to a street performance or public art installation. November and December are an especially festive time of year to visit, with twinkling light displays throughout and a massive Christmas tree that welcomes you at the entrance of the neighbourhood.
SHOP
More than 40 boutiques and one-of-a-kind shops make the distillery one of the best places to spend an afternoon. Vintage stores like Blackbird Vintage offer unique pieces sourced from around the world, from clothes and small decorative items to antique furniture. Clothing stores abound. Try Gotstyle for modern menswear, Crimson and Clover for cozy sweaters and accessories, including some Canadian brands. If you would rather tempt your tastebuds, visit Soma Chocolatemaker (they just picked up Best Bar at the International Chocolate Awards) or the Spirit of York Distillery for meticulously crafted gin, vodka and aquavit (the beautiful swirled-glass bottles also make great gifts).
The Distillery also hosts the city's favourite Holiday market (on this year from November 16th until December 31st), and the unique selection of handcrafted items from artisan vendors mean you can cross off every name on your Christmas list. The all-ages event is perfect for an outing with coworkers, a romantic walkaround evening, or for families (kids will love the Ferris wheel and merry-go-round, as well as a chance to meet Santa).
STAY
We are a quick drive or streetcar ride away, offering a glimpse into the past with our original 1900's architecture and old-world charm. Our boutique hotel is conveniently located in the Financial District on Yonge Street providing easy transit access around the city.
With world-class shopping, entertainment and culture, a visit to Toronto's Distillery District should definitely be on your Christmas list this year.