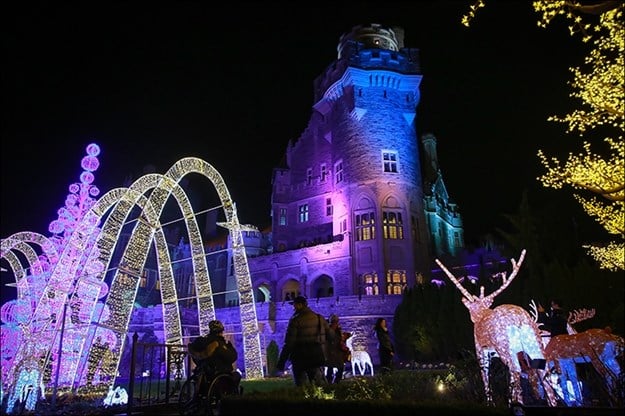 From our hotel, it's about a $25 cab ride up to Casa Loma.
But once you see the 2018 Winter Wonderland display they put on for the holidays, you'll think it was the best $25 you spent all day.
What is Casa Loma?
Sir Henry Pellatt was a Canadian financier and visionary who saw an opportunity to own the means to provide Torontonians with this new invention called electricity. He founded the Toronto Electric Light Company and eventually gained a monopoly. With his riches, and after being inspired by the castles in Europe, Sir Henry decided to build his wife Mary a home to rival anything he saw in the old country. Unfortunately for Sir Henry, he never got to live in the castle he built because the government voted to make electricity publicly owned, stripping him of his business in the middle of his build. He carried on and finished it, but was broke by the end. Ownership of Casa Loma transferred to the city and ultimately became a tourist attraction.
Why is that story important?
Sir Henry Pellatt's career as an electricity expert was part of the inspiration for the Winter Wonderland at Casa Loma, a yearly installation that brings the magic of Christmas to light through beautiful sculptures, scenes and art. It's become so popular that cars are often lined up more than a kilometre up Spadina Road to St. Clair Avenue just so people get a peek at the exhibit. Ironically, if Henry were still alive and still controlled his electricity monopoly, his own house would have probably covered a month's worth of expenses.
What can you expect?
Bluntly, you can expect your jaw to be dropped by what you see. The characters and objects are so beautifully crafted and lit. They shimmer so awesomely that they look like they're moving. And they surround the castle so you can walk around and get a sense of Casa Loma's grandeur (and Sir Henry's vision for the building, the gardens and the grounds).
Depending on when you go, you can also expect to see a lot of young families and school trips. If you can handle a bunch of rowdy children running around, then you're all good. If not, it's best to go after 7pm.
What else can you do when you're up there?
As we mentioned earlier, St. Clair Avenue is just up Spadina Road, and north of St. Clair is the Forest Hill Village, one of Toronto's wealthiest neighbourhoods. You won't see houses as big as Casa Loma, but some are closer than you'd think. Grab a quick bite at What A Bagel on Spadina — their tuna salad is to die for, as are their ruggaluch (traditional Jewish cookies).
Alternatively, you can get on the St. Clair streetcar west to Wychwood and check out one of Toronto's most popular cultural centres, the Wychwood Barns. Little known fact about the barns: it used to be the old streetcar depot.
And finally, if you want a bit more adventure (and a ride downtown), you can arrange tickets in advance for the Toronto Sightseeing Bus. There's a stop right in front of Casa Loma.