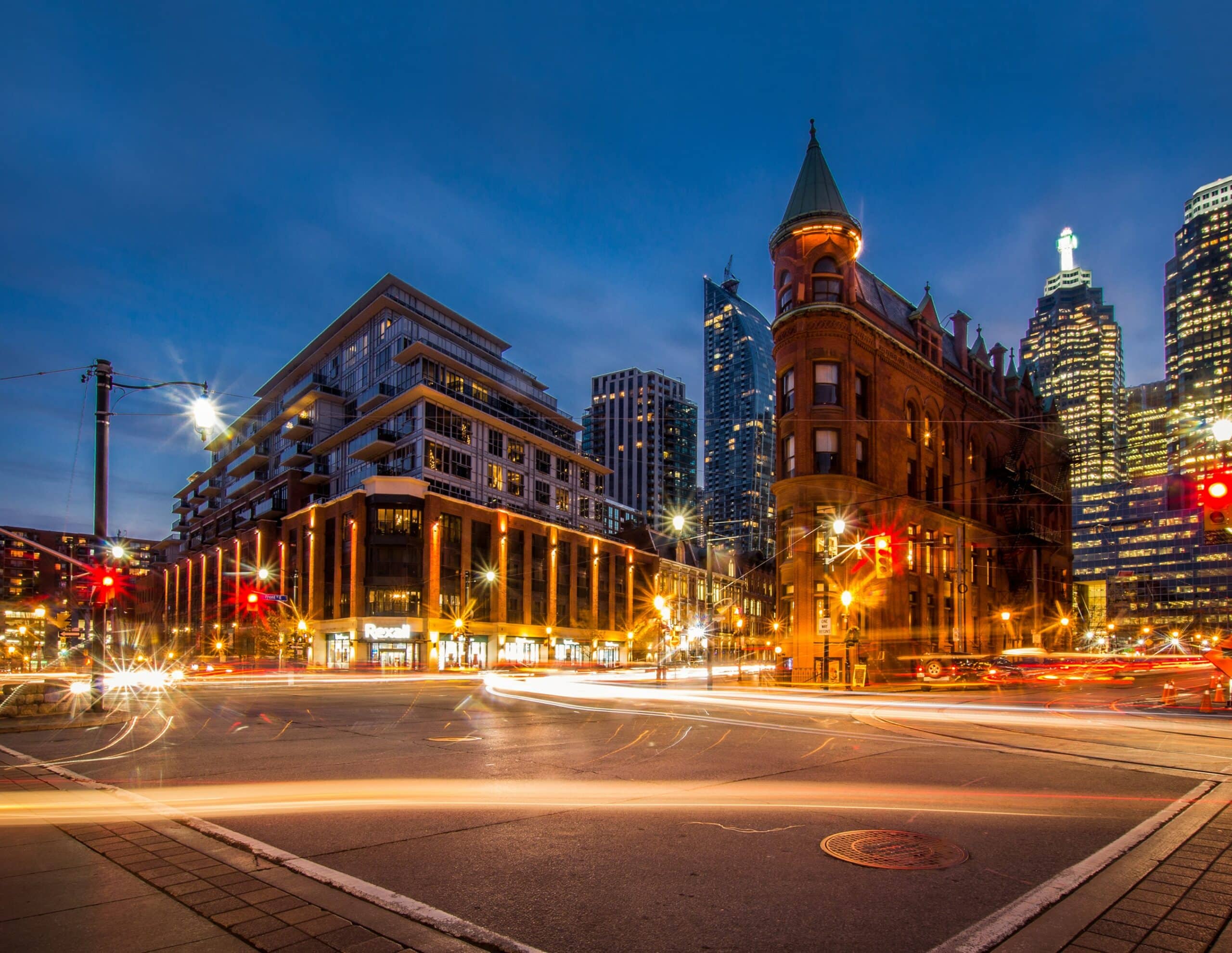 Updated Summer 2023
Hungry for some Toronto history and classic pub fare? The Flatiron: A Firkin Pub is one of Toronto's most iconic watering holes, housed in the lower level of the Gooderham Building.
Located in the St. Lawrence neighbourhood near our hotel (and the world's best food market), the Flatiron is a cozy British-inspired watering hole. Comfy booths and classic pub fare like shepherd's pie and fish and chips create an unpretentious atmosphere. But make no mistake, the pub sits beneath some of the most expensive real estate in the city. The building was constructed in the late 19th century by distillery tycoon George Gooderham of Gooderham and Worts. Completed in 1882, it predates its more famous NYC counterpart by two decades. The building sits on a triangular piece of land at the intersection of Front, Wellington and Church Streets and is the focal point of Toronto's most iconic commercial block. Just across the street, the Dog Fountain at Berczy Park is a popular destination for dog and public art lovers.
The building, which frequently appears in imagery of the city, was declared a National Historic Site in 1977. It's best known for its wedge shape and its four-storey mural by renowned Canadian artist David Michael Besant. The mural is a mirror image of the Perkin's building directly across the street, creating a captivating optical illusion that makes it one of Toronto's most recognizable pieces of public art. The building also provides a backdrop for one of the city's best photo ops: viewed looking west, the steep copper roof and elegant turrets give way to modern skyscrapers in the background, typifying the juxtaposition of old and new that Toronto is known for. Inside, the offices — some of which are equipped with fireplaces and walk-in vaults — sit below 12-foot ceilings. When the building was constructed it had a tunnel linking it to the bank across the street and it featured Toronto's first manual Otis elevator.
The pub has a busy Front St. patio where you can see and be seen, making it a popular destination for visitors and Financial District regulars. Its varied menu suits all palates with shareable bites like crispy calamari and shrimp, baby Yorkshire puddings, French dip sliders and nachos. The menu strikes a balance between pub favourites like burgers and steak, and lighter options like salads and bowls. While beer takes centre stage here with a good list of local craft brews, the cocktail menu is also worth a look. Keeping with the British theme, it offers classics like Proper Pimm's and The Scotsman along with Canadian-inspired options like the Bourbon Maple Ginger. You'll also find a full menu of exclusive brunch cocktails available only on the weekends.
If you're in town for a business meeting, The Distillery Winter Village, or a visit to the Hockey Hall of Fame, this unique Firkin location is a great option for dining and drinks that will help you experience Toronto's rich heritage. And don't worry about searching for an address — all the locals know "The Flatiron Building."